Meet Our Herbalists
We only work with the finest herbalists to formulate our products. Each product comes about from years of research and wisdom and are carefully crafted by hand in our FDA inspected facilities.
Mary Culvin
Master Herbalist
Mary Colvin is a certifed Master Herbalist through The School of Natural Healing located in Springville, Utah; and a General Member of the American Herbalist Guild working towards Professional membership.Along with being a Clinical Herbalist, she is a Consultant and Formulator for Evergreen Distributing under the Sprigs Herbal line of products. Consultations sessions can be scheduled with her. She contributes monthly articles on her website, and quarterly articles for Living Healthy Magalog You can contact her or visit her website at www.herbalcollections.com.  

Sandra Ellis
Master Herbalist
Sandra Ellis, (Dr. Mom) is a Master Herbalist, Midwife, Microscopist, Speaker & Author. She is the mother of 15 and grandmother of 45. For over 20 years she has been teaching others how to take responsibility for their own health and the health of their loved ones through the use of herbs, oils, massage, hydro-therapy and other natural modalities. She is the author of the popular book Dr. Mom's Healthy Living. Her book is used as a textbook at Dr. Christopher's School of Natural Healing where she has lectured and taught for over 20 years.  

Meet The Team
Jonathan Laudon
Owner / Father
Jonathan is responsible for running and creating the vision of Sprigs. Jonathan has a passion for spreading the message of living holistically, charity, travel, and woodworking. He started his first successful business at the age of 14 and ever since has been driven to bring together his love for business, education, and health. It was through these passions and with the help of his wife Nancy, that Sprigs was born. 
Nancy Laudon
Owner / Mother
Nancy is responsible for creating and managing Sprigs alongside her husband Jonathan. Before starting her family, Nancy traveled the US as a professional dancer where she learned the discipline she needed to start and manage a successful business. Nancy has a degree in Business from Southeastern University and her proudest accomplishment is her children. She is an advocate for charity, homebirth, and travel.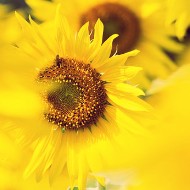 Leroy Miller
Sales/Production Management/Father
Leroy is responsible for reaching out to the stores that carry our products and managing the facility where all of our products are produced. He owns his own house, has started a small business, and is one of the biggest assets to the Sprigs team. Leroy has over 10 years experience in this field and that experience shows; Leroy was directly responsible for bringing our product manufacturing up from 0 to our full range of products in less than 2 years time. Leroy has been with Sprigs since the very beginning.
Moses Ruperto
Graphic Design
Moses is responsible for designing the images we use on the website, in social media, and in the magazine. He is accomplished in both visual arts and performance arts . With over 10 years of experience in graphic design, and a degree in Fine Arts from Briarcliff College, Moses' eye for detail is unmatched when it comes to producing great work. Moses has been with the team since the very beginning. 
Esther Lambright
Accounting / Bookkeeping
Esther is responsible for keeping the financial side of Sprigs running smoothly. Esther is great at reading financial reports, reconciling accounts, and taking amazing pictures in her other job as a professional photographer. Esther has been with Sprigs since the beginning and in the finance field in general for over 5 years, she continues to be an asset each and every day.  
Imani Coles
Writing / Editing / Mother
Imani is responsible for creating new and interesting content about herbs and herbal living for the website, magazine, and social media. Imani is passionate about singing, writing, and her growing family. She has been an author and personal blogger for over 2 years and has been with Sprigs since the very beginning.
Matt Morrison
Photography / Video / Editing / Father
Matt is responsible for filming our videos, taking pictures, and editing them all together to help us spread the message of living holistically.  Matt is passionate about great films, taking photos, his two daughters, and ping-pong. Matt has been into audio/video work throughout his life and joined the team in December of 2016. 
Cary Palmer
Copywriting/Editing/Marketing
Cary is responsible for reaching out to people and spreading the word about our products and living a holistic lifestyle with herbs. Cary is passionate about Florida history, marketing, advertising, and playing board games. He has been in the marketing field since graduating from The University of Florida in 2012 and joined the Sprigs team in December of 2016.